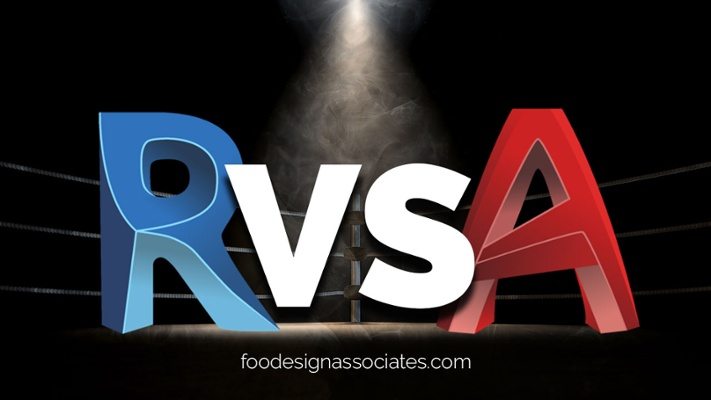 25 Apr

Revit vs AutoCAD (Foodservice Edition)
Revit vs AutoCAD: Which is Better for Kitchen Design?
Autodesk application AutoCAD used to be the go-to design tool that every architect or designer would use. However, the days of AutoCAD's unopposed market dominance may be coming to an end.
It probably isn't much of a surprise that AutoCAD and other electronic programs have replaced hand drafting and blue printing for essentially all foodservice design firms. 
It's easy to see why:  these programs increase production volume, decrease time per revision, and allow companies to create their own standard project templates so their drawing sets are identical across hundreds of kitchen design projects.
AutoCAD was born in 1982, and it only took about four years to nail down the entire design market. 
For decades, AutoCAD was the Kleenex of drafting software.
So why would this once-ubiquitous product be on the verge of blending back into the crowd? 
The times are a-changin'
Perhaps country music singer and breakfast sausage magnate Jimmy Dean can give us some higher-level perspective into AutoCAD's current situation: "I can't change the direction of the wind, but I can adjust my sails to always reach my destination." 
Jimmy's optimistic pragmatism echoes the sentiment of designers around the world, and highlights AutoCAD's biggest failure: to evolve as fast as available technology.
As kitchen designers, we will always get to where we need to be, and will use the best tool to get there.
The newest product that architects or designers are jumping to is Revit.  Those of us here at Foodesign switched from AutoCAD to Revit a few years ago and haven't looked back.
Revit is basically AutoCAD on steroids (steroids, of course, being another fun tie-in to Jimmy Dean sausage).  It can do everything AutoCAD can do, and more. The benefits of using Revit over AutoCAD are growing constantly, as more and more updates roll out and yearly product upgrades continue to impress.
Can you tell we like Revit?
What's the difference between Revit and AutoCAD?
Revit utilizes Building Information Modeling (BIM), taking precise models of real things (like ovens or shelving or tables) and placing them around a virtual space.  You can view it in two dimensions, but the lines on the paper inherently contain loads of information about the thing they represent.  You can make it 3D or 2D in a simple click of the mouse.  Cool.
AutoCAD, on the other hand, is a drafting software.  It lets you draw precise lines within a virtual space.  Those lines are meant to represent real things (like ovens or shelving or tables), but, despite having the correct shape of those items… they're just lines.  Nothing nearly as cool as models, I'm afraid.
Benefits of Using Revit over AutoCAD
Revit has come a long way from the beta product it used to be. It has better quality control than AutoCAD, as the equipment automatically pulls all the electrical, plumbing and mechanical specs into a schedule. This will help avoid accidental inputs or leaving important spec information out.
Revit has also released the capability to produce quality renderings, something AutoCAD never really had firmly in their wheelhouse.
Within Revit you build each equipment in a 3D view, so when it is placed you already have a 3D model to view. After placing the necessary equipment, you can pull up a full 3D walkthrough, so you can see how each piece of equipment will look as you "walk" past it.
This is not only necessary for kitchen designers, but can be huge for architectural programs as well. Architects can build an entire building plan, and Revit can be given elevation views to show floors, attics, or basements if needed. After the architect is done, they can just upload it to A360 – an Autodesk cloud feature – and any collaborator can download and work on that plan or import it into their own project for use.
These small features add enough to Revit to make it a more than suitable default program that design companies should utilize.
Design… uh, finds a way.
Revit is the next step in design evolution.  Current and future generations are already thinking and consuming content in 3D. It isn't going anywhere.  It's only going to get more popular.
This is the easiest choice that any architect and designer could make: move to Revit. Moving to Revit will save a company time and money; it will keep your customers happy.
We like Revit.
 {{cta('b8793b45-a6e0-4ad2-a801-e64edf414291′,'justifycenter')}}